Roy Mack - "Bionic" Bluesman!
This site is best viewed (and heard!) using "Internet Explorer"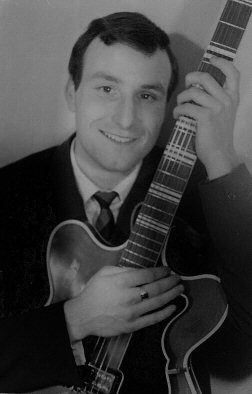 It's time for me to make the announcement that I never imagined I would....
I have retired!
After 55 years (and millions of miles) I feel that the time is right for me to "hang up my guitar(s)".
I would like to pay tribute to the great musicians that it has been my honour, and pleasure ,to work with.
I would also like to thank all those who have given me, and my colleagues in various bands, such valuable support over the years, especially in the early days of "The Renegades". Who would have thought, when we first stepped onto the stage on 4th May 1959, that nearly 55years later three of the five of us would still be performing. That three is now two!
-----------------------------------------------------------------------------------------------------------------------------
The term "Bionic Bluesman" was coined by WUWM (Milwaukee) radio presenter Jim Glynn when introducing Roy to former Fleetwood Mac legend , Peter Green. Don't let the name mislead you though, as Roy "specialises" in Rock'nRoll, Instrumentals, hits of the Fifties & Sixties, as well as Blues!

Roy Mack enjoyed a long and distinguished career as a musician.
His distinctive style delighted and amazed audiences in both Britain and the U. S. A.
&
Was voted U.K. Entertainer of the Year – 1996
Has performed at "Welsh-Fest U.S.A." in Los Angeles.
Was made an Honorary Citizen of Buddy Holly's home town, Lubbock, Texas, in recognition of his work for the 9/11 Fund
Headlined the "Shades of Blues" Festival in Green Bay, Wisconsin.
Has appeared live on T.V. & Radio in both the U.K. & the U.S.A.
- - - - - - - - - - - - - - - - - - - - - - - - - - - - - - -
The track playing is "You Don't Answer".
For further information e-mail: [email protected]
COPYRIGHT: All rights of the publisher and owner of the material in this site, reserved. Unauthorized copying or publishing of any text or photographs, prohibited.
Home | Booking Information | News | Stage Show | Musical History | My Favourites | My Guitars | Concerts | The American Diary | Route 66 Tour-2002 | The Great American Dream | Albums | Photo Gallery | Grove Park Grammar School | Llanymynech Golf Club | Links
This site was last updated 04/25/18